RadioZamaneh > Radio Zamaneh in English > Latest News > Iranian opposition appeals to Shiite clergy for justice
| | |
| --- | --- |
| RadioZamaneh | Date of Publish: ۱۴ مرداد ۱۳۸۹ |
Iranian opposition appeals to Shiite clergy for justice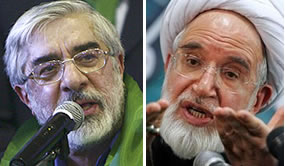 MirHosein Mousavi - Mehdi Karroubi

In a letter to senior Iranian clergy, MirHosein Mousavi and Mehdi Karroubi protested against hardliner Ahmad Jannati and his recent allegations against the two opposition leaders.

The letter appeals to Iran's Shiite sources of emulation to demand proof of Ahmad Jannati regarding his recent allegations.

Last week, Ayatollah Jannati told a meeting at Jamkaran Mosque in Qom that he has proof that the leader of recent protests had received money from the US through Saudi intermediaries.

The opposition leaders maintain that Ayatollah Jannati makes such baseless accusations because he has no fear of being held accountable since he has the support of the Revolutionary Guards.

The opposition urged Iran's sources of emulation to save the reputation of Islam by demanding that Ayatollah Jannati backs his allegations with proof.

Earlier the reformist organization, Islamic Iran Participation Front also condemned Ayatollah Jannati's allegations and urged the judiciary to start proceedings against him.