RadioZamaneh > Radio Zamaneh in English > Latest News > Political prisoners still denied family visits in Iran prison
| | |
| --- | --- |
| RadioZamaneh | Date of Publish: ۲۵ مرداد ۱۳۸۹ |
Political prisoners still denied family visits in Iran prison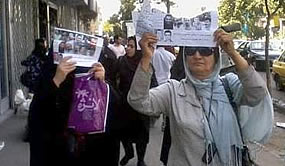 Families of prisoners, who ended their hunger strike at Iran's Evin Prison, were once more barred from visiting their kin.

Kaleme website reports that the families of the 16 political prisoners who had recently gone on a hunger strike, staged a protest today Monday for being once more denied the right to visit their loved ones in prison.

According to Kaleme, Evin Prison authorities told the families who have been in complete news blackout about their kin for about 20 days that these prisoners are going to stay in solitary confinement for a long time.

They have added that "protests and strikes in prison are crimes" therefore loss of visiting privileges "will teach them not to engage in such disturbances."

The political prisoners, who went on strike in July in protest to being mistreated by prison guards, ended their strike after over two weeks of refusing food.

The prisoners who had been transferred to solitary confinement demanded an end to mistreatment by the guards, an adherence to their legal rights and increase in their space and facilities in prison.

Another of their demands was the release of another political inmate, photo-journalist, Babak Bordbar, which was met.

Kaleme reports that the widespread reflection of the hunger strike in the media is the reason why the prisoners are being kept in solitary confinement and denied family visits.

The last prisoner on hunger strike, Keyvan Samimi, has announced that he will continue his ordeal until all the protesting prisoners are returned to the general section of the prison.

Reportedly, after 21 days without food, Samimi's health is failing.