RadioZamaneh > Radio Zamaneh in English > Latest News > Third session of Iranian women's movement gathering
| | |
| --- | --- |
| RadioZamaneh | Date of Publish: ۱۵ مرداد ۱۳۸۹ |
Third session of Iranian women's movement gathering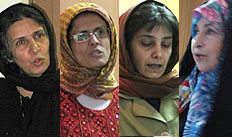 The third session of the "Green Convergence of Women's Movement of Iran" was held in Tehran on Thursday marking the anniversary of the Constitutional Revolution with women from a spectrum of the women's movement in attendance.

The gathering was attended by a number of mothers of the post-election victims of the past year, wives of political prisoners as well as women's rights and political activists.

The agenda of the meeting included topics such as the role of women in the Constitutional Revolution a century ago, the current issues for women in Iranian society and the continued imprisonment of political prisoners as well as concern for the 17 prisoners who have been on a hunger strike for almost two weeks.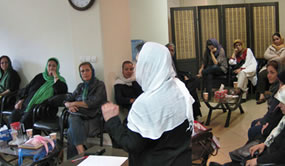 The meeting issued a statement which amongst other issues stressed the vital and important challenge of establishing an adequate form of interaction between the women's movement and the other national democratic movements.

Despite all the successes of the women's movement, the statement expressed concern that all the positive social developments towards gender equality may be arrested or even reverted by violence.

The meeting finally stressed the importance of accepting the role of ethnicities, religions, languages and genders while emphasizing the social and economic rights of women. Avoiding violence and war as well as building coalitions while maintaining independence were also noted in the meeting.

The first session of the "Green Convergence of Women's Movement" was held on International Women's Day and the second was held on the occasion of Iranian New Year.