RadioZamaneh > Radio Zamaneh in English > Latest News > Iranian authorities prepare for possible street protests
| | |
| --- | --- |
| RadioZamaneh | Date of Publish: ۱۱ شهریور ۱۳۸۹ |
Iranian authorities prepare for possible street protests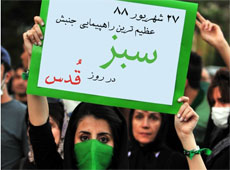 (archive photo) Banner reads: "September 18, 2009, the largest green movement demonstration, Qods Day"

Amidst rallies issued through a number of social networks for people to participate in tomorrow's demonstrations, Iranian security forces have been brandishing security manoeuvres while web users report evident reduction in internet speeds and frequent interruptions.

Fars news agency reports that the security forces have carried out a manoeuvre titled "Subduing in Tehran" which the head of Tehran Security forces has referred to as an exercise in "enhancing communication between special police forces" and confronting crime.

Hosein Sajedinia added that tomorrow, Qods Day, security forces will be present in all the sensitive spots of the city to prevent the emergence of any difficulty.

Other reports indicate that anti-riot forces have been deployed in central locations of the city including Haft-e Tir, Enghelab and Vali Asr Squares to interfere wherever necessary.

Iran observes the last Friday of the holy month of Ramadan as a day of solidarity with the people of Palestine. The day, which Iran's late supreme leader, Ayatollah Ruhollah Khomeini dubbed as Qods Day, is usually marked with widespread street demonstrations and anti-Israeli slogans.

Following the vast protests against the alleged election fraud that brought back Mahmoud Ahmadinejad back to power in June 2009, opposition leaders and protesters took to the streets on Qods Day and caught government forces off guard with their anti-government slogans.

Reportedly, since this morning, in Tehran and other major cities, access to social networking sites such as You Tube, Twitter and Facebook and even email providers have been heavily reduced.

Protesters have used the internet as major tool to contact and organize themselves in the past year of protest in Iran.

While the opposition leaders have not issued an official rally call, Mehdi Karroubi, who has been the target of repeated attacks in street demonstrations in the past year, said earlier that he will participate in the Qods Day events.