RadioZamaneh > Radio Zamaneh in English > Latest News > Son reports mock execution of mother, sentenced to stoning in Iran
| | |
| --- | --- |
| RadioZamaneh | Date of Publish: ۱۰ شهریور ۱۳۸۹ |
Son reports mock execution of mother, sentenced to stoning in Iran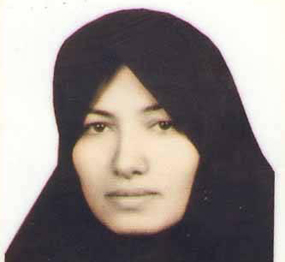 Sakineh Mohammadi

Son of the Iranian woman sentenced to stoning reported that his mother was subjected to a mock execution by Tabriz Prison authorities and is now under severe psychological strain.

British daily Guardian reports that Sajjad Ghaderi, son of Sakineh Mohammadi Ashtiani said that Tabriz prison authorities told his mother that her execution sentence would be carried out the following day. She reportedly wrote her will and bid her inmates farewell but the sentence was not carried out.

Ghaderi maintained that his mother is now suffering form grave psychological strain and she is now denied all contact with her family and attorney.

According to Ghaderi, prison authorities have been punishing Mohammadi Ashtiani because of the international outcry against her case.

On Saturday, demonstrations and gatherings were organized in one hundred cities around the world to protest Mohammadi Ashtiani's sentence.

The 43-year-old mother of two, was sentenced to 99 lashes for having an "illicit relationship outside marriage" in 2006. Later another court reviewed her case after her husband was murdered. She was acquitted of the murder charge but found guilty of adultery for which she was sentenced to death by stoning.

Now Sajjad Ghaderi reports that the authorities claim that the murder file of his father has been lost and says: "They are lying about the charges against my mother. She was acquitted of my father's murder but the government is fabricating another story against her."

Last week, the home of Mohammadi Ashtiani's attorney, Houtan Kian was raided by plainclothes forces and documents linked to her case were stolen.

Ghaderi maintains that now all documents regarding her acquittal of the murder charge have been destroyed so that all the contradictions of the case may be covered.

One of the weaknesses of the case has been that no one has been identified as the person Mohammadi is supposed to have had illicit relations with.

Sajjad Ghaderi stressed that his mother's life depends on the international pressure and expressed certainty that without it, her mother would have been executed by now.