RadioZamaneh > Radio Zamaneh in English > Latest News > IDFA awards Iran's "anonymous filmmakers"
| | |
| --- | --- |
| RadioZamaneh | Date of Publish: ۴ آذر ۱۳۸۹ |
IDFA awards Iran's "anonymous filmmakers"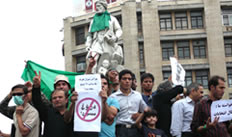 The International Documentary Film Festival Amsterdam (IDFA) has honoured the "anonymous filmmakers" who recorded the images of the Iranian people's protests following the controversial presidential elections of 2009.

The festival website reports that Lionel Veer, Dutch Ambassador of Human Rights will award the prize to The Silent Majority Speaks, a collection of films and images taken by people from the protests that followed the re-election of Mahmoud Ahmadinejad in the 2009 presidential elections.

For security reasons, Mahboubeh Abbasgholizadeh, Iranian women's rights activist, will accept the prize on behalf of the anonymous collective that made the film.

The award consists of a five-thousand-euro cash prize offered by Amsterdam's oldest cinema hall, Pathe Tuschinski.

The festival website states that The Silent Majority Speaks is the work of an anonymous collective who portray the desire of young Iranians for change in the protests to the alleged vote rigging in the 2009 elections.

According to the festival website: "The film is a 93-minute collection of 14 films that were taken by cell phones from the unrest and violent moments in the people's street protests during which several protesters were killed."

The film was sponsored by HIVOS, the Dutch humanist organization that assists filmmakers in Africa, Asia and South America.

Mahboubeh Abbasgholizadeh will give a press conference after receiving the award. In an interview with Radio Zamaneh, she said: "Given that I have been focusing on "citizen journalism" in my recent efforts as a way of protest in the women's democratic movement, I am honoured by the opportunity to receive this prize on behalf of the anonymous filmmakers that have recorded the historic events of Iran in the recent protests."

Mahboubeh Abbasgholizadeh will also receive the 2010 Johann Philipp Palm Prize for freedom of expression and the press in Germany on December 5.

Abbasgholizadeh left Iran this year and was sentenced in absentia to two years in prison and 30 lashes by the Iranian judiciary.