RadioZamaneh > Radio Zamaneh in English > Latest News > Student organization targeted by Islamic Republic authorities
| | |
| --- | --- |
| RadioZamaneh | Date of Publish: ۱۷ آبان ۱۳۸۹ |
Student organization targeted by Islamic Republic authorities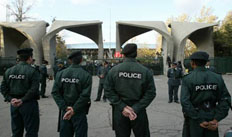 Iranian student organization, Office for Consolidating Unity, announced that the Islamic Republic government has started a new wave of retaliation against its members.

Daneshjoo News reports that at least four senior members of the Office for Consolidating Unity (Daftar-e Takhim-e Vahdat) have been arrested in cities all across the country.

The organization reports that they are currently in the process of their annual elections through an online campaign. They maintain that the government has stepped up pressure on their members in order to stifle the organization's activities.

Numerous student activists were arrested following the disputes over the irregularities in the 2009 presidential elections which the opposition contends secured Mahmoud Ahmadinejad's victory.

Many student activists have received heavy prison terms for their participation in the post-election protests against the controversial return of Ahmadinejad to power.