RadioZamaneh > Radio Zamaneh in English > Latest News > 15 years in prison confirmed for Iranian blogger
| | |
| --- | --- |
| RadioZamaneh | Date of Publish: ۱۴ آذر ۱۳۸۹ |
15 years in prison confirmed for Iranian blogger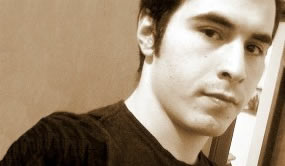 Iranian blogger, Hossein Ronaqi Maleki

Iranian blogger, Hossein Ronaqi Maleki's 15-year prison term has been approved by an Islamic Republic appellate court.

RAHANA website that covers human rights news in Iran reports that Ronaqi has been kept in solitary confinement for over 11 months and was given 15 years in prison by a preliminary court.

The blogger known as "Babak Khoramdin" is charged with "membership in Iran Proxy, an internet group, propaganda against the regime, insulting the leader and the president."

Hossein Ronaqi Maleki went on a hunger strike in September in protest to his sentence and the behaviour of the judiciary officials in prison.

According to Reporters Without Borders this is the heaviest sentence to date for a blogger save the 19-and-a-half-year sentence given to another blogger, Hossein Derakhshan.

Zoleikha Mousavi, Ronaqi's mother has told RAHANA that she has not seen her son since last July. She adds: "Hossein calls home a couple of nights a week each for about a few minutes and all our efforts to see him have been to no avail."

Ronaqi was arrested along with his bother last December in his home at his father's and mother's in Eastern Azerbaijan Province. His brother was later released on an $80,000 bail.

Reporters Without Borders announced that the Islamic Republic regards bloggers, like journalists, as its enemies and has been issuing heavier sentences for them.