RadioZamaneh > Radio Zamaneh in English > Latest News > UN silence regarding assassinations condemned by Iran
| | |
| --- | --- |
| RadioZamaneh | Date of Publish: ۲۰ آذر ۱۳۸۹ |
UN silence regarding assassinations condemned by Iran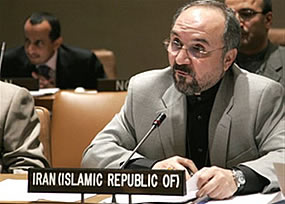 Mohammad Khazai, Iran's UN ambassador

Mohammad Khazai, Iranian ambassador and permanent representative in the United Nations spoke out against the UN's failure to take a stance against the recent assassination attempts against the two Iranian nuclear scientists in Tehran.

Iranian media report that in a letter addressed to Secretary-General of the United Nations Ban Ki-moon, Mohammd Khazai condemns the "passive" stance of the UN regarding the assassination attempts in Tehran.

Two Iranian university professors were targets of assassination attempts in Tehran in two separate incidents on November 29. The attacks claimed the life of one and injured the other.

Iranian authorities maintain that both professors were involved in Iran's nuclear program and claim the presence of their names on the list of individuals named in the UN resolutions against Iran's nuclear activities precipitated the attacks.

Mohammad Khazai also reiterates the contention of Iranian judiciary and intelligence officials that foreign secret services and in particular those of Israel were involved in these attacks.

Khazai concludes that "Iran will never forego its absolute right to peaceful nuclear activities."

Iran insists that despite contentions of the US and Israel, its nuclear program is completely peaceful and only geared toward producing energy.